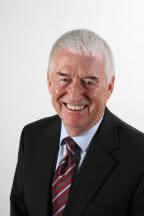 Plaza Centre One
Suite 580
125 South Dubuque Street
Iowa City, Iowa 52240-5678
Phone: (319) 432-7948
Fax: (319) 887-3687
E-mail: jhayes@hlplc.com
I was raised on a farm near Forest City, Iowa, graduated from Loras College in Dubuque, Iowa, and then from the University of Iowa College of Law. My first job out of law school was as Iowa Deputy Commissioner of Public Safety and then as the first Director of the Iowa Crime Commission. I was a candidate for State Attorney General, then began trial practice with the Meardon Law Firm in Iowa City.
Karen Lorenzen and I formed our own law firm in 1999 and we have grown to the four lawyers now with our firm In our state-wide practice, we handle a wide range of personal injury cases involving medical neglect, vehicular accidents, fires, industrial accidents, product failures any kind of cases where people are badly injured, such as brain injuries and major physical disabilities. I represented college athletes who went on to play professional ball. Today, athletes who sustained brain concussions many years ago in college and the NFL are experiencing CTE, and we represent those clients for damages at both the NFL and NCAA levels.
We are proud of the service we provide to the citizens of Iowa. All of our lawyers are actively involved in the profession, in our community and in our state.
Current Employment Position(s)
Partner, Hayes Lorenzen Lawyers PLC
Year Joined Organization
Areas of Practice
Medical Malpractice -- Plaintiff
Motor Vehicle Accidents -- Plaintiff
Personal Injury -- Plaintiff
Products Liability Law -- Plaintiff
Bar Admissions
Iowa, 1964
U.S. District Court Southern District of Iowa, 1972
U.S. District Court Northern District of Iowa, 1972
Education
University of Iowa College of Law, Iowa City, Iowa, 1964
J.D.
Loras College, Dubuque, Iowa, 1960
Major: History
Classes/Seminars Taught
Guest Lecturer, Medical Jurisprudence, University of Iowa College of Medicine, 1974 - 1990
Guest Lecturer, Medical Malpractice and Sports Law, University of Iowa College of Law, 1975 - 1995
Speaker, Numerous Trial Lawyer and Physician Seminars
Professional Associations and Memberships
American College of Trial Lawyers, fellow 1990-present; state chair 2002-2004
Iowa Academy of Trial Lawyers, fellow 1980-present; vice president 1993-1994, president 1994-1995; Board of Governors 1992-present
Iowa State Bar Association, member 1964-president
Iowa State Bar Association, Section on Professionalism Past Member, Vice Chair 1989-1990
Iowa State Bar Association, Section on Litigation, Past Council Member 1990-1992
Iowa State Bar Association, Past Council Member, Health Law Council
American Bar Association, member 1964-present
Johnson County Bar Association, member 1969-present, president 1999-2000
Johnson County Bar Association, Past Member, Grievance Committee
American Association of Justice, member 1970-present
Iowa Association of Justice, member 1970-present, Board of Governors 1981-1987
American Society of Law and Medicine, Past Member
Dean Mason Ladd Inn of Court, Past Member
Assisted Governor Chet Culver in appointing Judicial Commissioners and vetting judges as an outside lawyer reviewer, 2006-2010
Judicial Retention 2010 and 2012 Committees, "Fair Courts Are Us."
Past Employment Positions
Iowa Department of Public Safety, Deputy Commissioner, 1964 - 1967
Iowa Crime Commission, Director, 1967 - 1968
Meardon, Sueppel & Downer, Associate, 1969 - 1972
Meardon, Sueppel, Downer & Hayes, Partner, 1972 - 1999
Pro Bono Activities
President, Members Council, University of Iowa Museum of Art, 2004-2006
Member, Advisory Board, University of Iowa Museum of Art, 2006-present
President, Advisory Board, University of Iowa Museum of Arts, 2012-2014
Past Member, Board of Directors, University Athletic Club
Member, Board of Directors, Friends of Historic Preservation, 2000-2012
Member, President's Club, University of Iowa
Past Member, Development Council, Loras College
Member, Advisory Board, REACH (Realizing Education and Career Hopes) at University of Iowa, 2008-present
Board of Directors, Iowa City UNESCO City of Literature, 2013-present
Member, Board of Directors, I CAN READ, 2006-2010
Member, Iowa Arts Council, 2007-2013
Chair, Grant Wood Art Colony National Advisory Board, 2010-present
Member, University of Iowa I Club, 1969-present
Candidate for State Attorney General
Chair, Johnson County Democratic Party, 1970-1974
Past Member, Johnson County Regional Planning Commission, 1970-1975
Past Member, Iowa City Historic Commission, 1980-1984
Past Member, American Association of Representatives of Professional Athletes, 1975-1987
Fraternities/Sororities
Phi Delta Phi legal fraternity
Phi Alpha Theta, history fraternity